본문
The advent of the information-oriented societies has brought a rapid increase in information/communications devices use; 
therefore, the global industry drive towards smaller, lighter, and more compact, efficient and reliable electronics
has led to 
the development of switching-mode power conversion technology.
The PWM control representation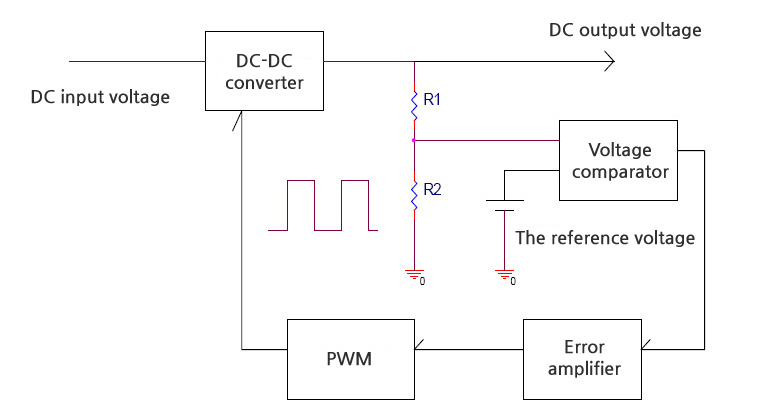 The PWM circuit converts the output from the compensated error amplifier to a duty ratio. The output is regulated by modulating the duty ratio to compensate for variations in the input or the load with both Ts and Toff typically fixed(The switch on-time 
regulates the output).
Ts is normally a fixed value out of the audible frequency band.
Key Features Comparison between the SMPS and the Linear Regulator

SMPS 상업화 배경
정보화 사회가 본격적으로 도래함에 따라 산업 전반에 걸쳐 통신 및 정보처리 기기의 사용이 급증하게 되었습니다. 각 전자기기에 사용되는 전원 장치의 전력 소비에 대한 부분이 전자기기의 성능에서 상당한 부분을 차지하게 되면서 소형화, 경량화, 고효율, 고신뢰성 전원기기의 확보가 필수적인 요인으로 작용하면서 SMPS의 상업화가 급물살을 타게 되었습니다.
SMPS 제어 회로(PWM)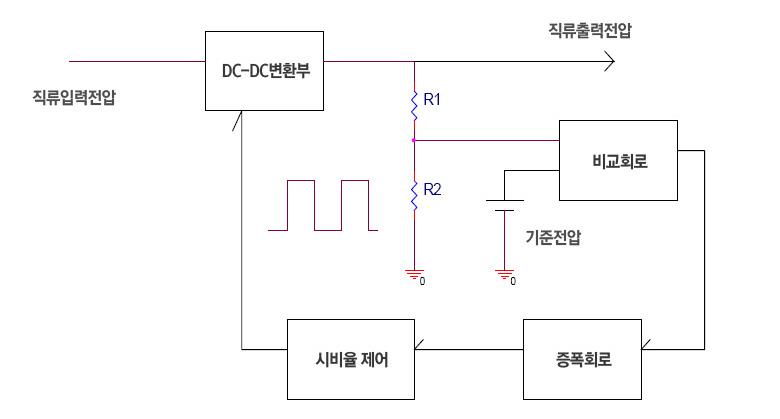 상기 '부궤환 펄스폭 변조 시스템(PWM)'은 시스템 패러미터 변동, 외란(입력전압/부하 변동, 시스템 비선형성 등으로 인한) 에 대해 안정적인 DC출력을 제공해 준다고 알려져 있습니다. 구체적으로, 정류부를 통과한 unregulated 상태의 직류 입력 전압이 DC-DC 변환부를 통하여 regulated 직류 출력 전압으로 변환하게되고, 그 일부가 비교회로의 기준 전압으로 사용되면 이 기준 전압과 R1 및 R2를 통한 비교전압이 증폭 및 시비율 제어회로로 이루어진 궤환회로를 통과하면서 DC-DC변환부의 ON/OFF 시간을 조절하여 일정한 출력 전압을 유지하게 됩니다.

시비율제어는 스위칭주기(Ts) 를 일정하게 고정한 후 Turn On 시간(Ton)을 가변하여 출력 직류 전압이 입력 직류 전압 및 출력 부하의 변동에 일정한 전압을 유지할 수 있도록 이루어 집니다. 이때 스위칭 주기는 가청 주파수대를 벗어난 값으로 고정됩니다.
주요 특성 비교 (SMPS VS 리니어 레귤레이터)